I suppose I should warn you. I don't work in a 5-star restaurant, my kitchen isn't stocked with fancy food that I can't pronounce, and my recipes are not very complex. I love cooking nonetheless. I'm not a chef, I'm just a wife. Not that I feel as though I'm
just
a wife, but becoming a wife is what
really
made me start cooking.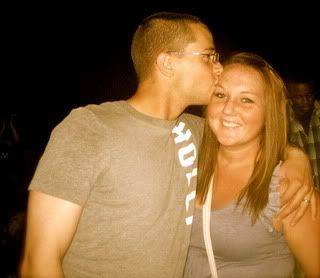 There I am, and that lucky guy next to me is my husband. Now, I must be doing
something
right, because my cooking has not ran him out yet!
I wasn't one of those kids that started cooking at the age of five. However, I have always enjoyed cooking. I didn't spend weekends baking cookies with my mom and I surely was not counting down 365 days to her next Thanksgiving turkey. Now that I have my own kitchen, my own pots and pans, more time on my hands than I'm used to, and a husband depending on my food for his own personal survival, I
love
cooking! Though I wish I would have started this four months ago, I'll start today. So here it is, my very own food blog.